today i have a project to show you that incorporates TWO techniques with
Inspirations paints
PLUS a tutorial.
My card uses Creative Inspirations Paints in TWO fun ways. one for the stamp and another for the background. the cuttlebugged background is a FAVE technique of mine called cuttlebug smoosh but this time i used CI paints instead of ink from an inkpad. simply open your CB folder up, lay your paper on the back portion of the folder and use a
sponge
to lightly cover the front portion with CI paint - not heavy so your raised portion will remain ink free. work quickly and when the folder is covered in paint close it carefully onto your paper that is already in place and run it through your cuttlebug to emboss. the background of the paper will have paint on it and the raised portion will not! mine is subtle here - i used Pink Highlights Shimmer Paint so there is loads of shimmer with a hint of pink when the light hits it just right!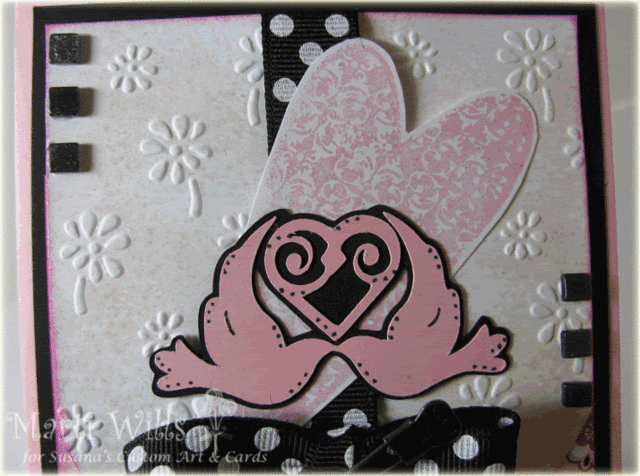 i also used CI paint for my heart stamp and here is how you do it - quick, simple technique.
we all love a stamped image with lots of bling - well i love ANYTHING with lots of bling....i also love products with versatility! not only can you use CIs as a paint to color in your images or enhance your images it makes a WONDERFUL shimmery stamping medium too!
Here is all you need - solid or semi - solid stamp,
Creative Inspirations Paints
and
fingertip sponge daubers
.
Take your sponge dabber and dip it ever so lightly into the paints and then tap it bit in the lid - you do not want your paint to heavy or you will not get the details of the stamp - you definitely don't want it DRIPPING with paint!
now quickly tap it over the entire stamp surface LIGHTLY - this way paint does not seep as much into the stamp details. though a little seeping CAN add a cool look to the image as well so just play with it.
Then simply stamp it onto your paper!
now how cool is that??? what? you don't have any of these cool paints yet?? Susana has all of the gorgeous colors in stock now!
have fun!